INDIGO is the leading Dutch game business event, connecting developers, publishers, investors, press, and other interested parties to get to the next level. INDIGO provides access to the whole of the Dutch games industry, from talented students to AAA CEO's and developers of serious games. It is also the longest running event in the Dutch games industry with a fourteenth edition coming up in 2023! INDIGO's key features include:
Business matchmaking with the industry's finest: MeetToMatch.
The iconic INDIGO Discover Showcase presents the best new games from the Netherlands and beyond.
Our Talks program brings you a premium conference, featuring professionals from the Dutch and global industry on all things game development and business.
STAY UP TO DATE WITH THE LATEST INDIGO NEWS.
In the months leading up to INDIGO 2023 you'll receive a monthly update on the TALKS conference program, new DISCOVER showcasers, and new companies and publishers on the MEETTOMATCH platform. After INDIGO, we will delight you regularly with some after fun and ofcourse you will be the first to hear INDIGO news.
Enter a world full of adventure! During our Discover Showcase you have the opportunity to see some of the latest games in development from The Netherlands and beyond.
The iconic INDIGO Discover Showcase is what it all started with. Show your game live to press, publishers, peers, investors, government officials and ofcourse the INDIGO judges during INDIGO 2023. 
Platforms
Console, PC, mobile, and physical installations. (Serious and entertainment games)
Get insider tips, tricks, and tactics on the topic of game business and development during our Talks Conference.
The INDIGO Talks Conference consists of two tracks: business and development. Talks will cover entertainment and serious game topics by game industry experts from the Netherlands and beyond. All Talks will be available digitally after the event in the INDIGO Vault.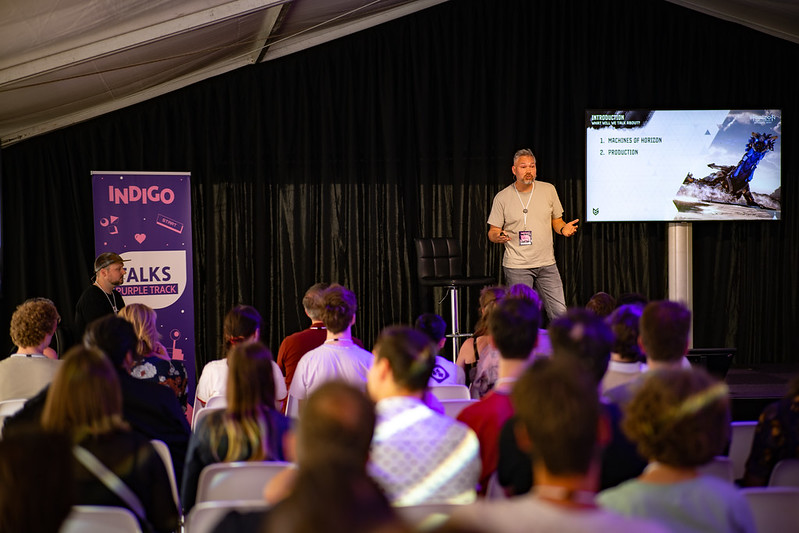 Find your next business opportunity with MeetToMatch at INDIGO!
Get connected to publishers, service providers, investors and other game companies. INDIGO & MeetToMatch will help bring your company to the next level. Once your meeting is scheduled, you can dive right in at our on-site meeting square!
This year, INDIGO brought an unparalleled blend of innovation, creativity, and gaming insights to the heart of Utrecht on June 21st. Held this year at the Van der Valk Hotel, the event pushed the boundaries of the traditional Dutch game industry convention, delivering...
Krista Hendriks
Communications Manager
Tom Jongens
Sales Manager
Looking to promote your company, services, or game towards game industry professionals?

Reach out to me then and we'll set up a call! tom@dutchgamegarden.nl.  
JP van Seventer
Program Manager
Do you have professional knowledge to share about game development or business and do you want to be part of the leading game developer conference in the BENELUX? 
Let's have a chat!
Please contact me via jp@dutchgamegarden.nl.